Irish Journal of Sociology, num. 1, 2018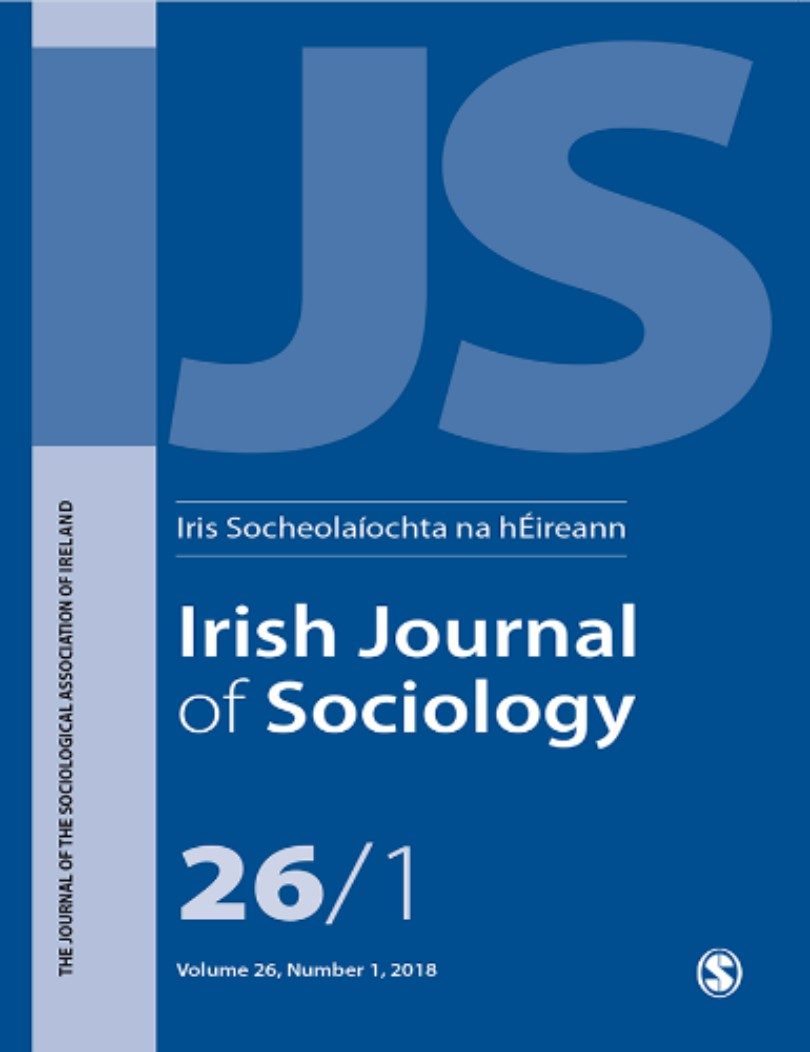 The Jorunal of the Sociological Association of Ireland
Volume 26, Number 1, April 2018
This issue sees a new editorial team taking over the Irish Journal of Sociology (IJS). First and foremost, we want to thank Dr. Brian Conway – our predecessor as editor – for his excellent work over the last few years and for leaving us the journal in shape, including all the content for this issue. The IJS has undergone remarkable improvements over the last few years, which includes a change in publishers and efforts to list the journal in international indices. A rigorous peer-review process according to the highest international standards guarantees high caliber articles and continues to establish the journal as a well-known general sociology outlet in Europe. Brian has done the journal an excellent service and we want to thank him!
The first issue of 2018 and our first issue opens with two articles illustrating how sociology can help uncover how gender operates in contemporary Irish society. Darcy highlights how drug users are more likely to be male than female and shows how Irish men's recreational use of illicit drugs intersects with masculinities in a number of interesting ways. Murphy draws attention to how changes in Irish Social Policy are aligned with dominant patriarchal norms, with reforms focusing on lone parents, and ignoring a larger group of women, the partners of coupled social welfare claimants. Following these, two articles explore issues of group identity, status and meaning. Joseph considers the intersection of race and immigration to point out overlapping and embedded dimensions of hierarchy. Side considers the meaning and use of an image from the Bloody Sunday, highlighting the evolution of its iconicity. Finally, Hynes seeks to (re)position sociology within debate around the role of technology in society. This issue closes with a book reviews section.
Our vision
As the flagship journal of the Sociological Association of Ireland, the IJS is a crucial platform by which the discipline is coherently presented to a variety of audiences – academic and lay – within Ireland and abroad. We envision a future for IJS that continues to elevate the quality and reach of sociology and also attracts high-quality research from academics based outside the Republic and Northern Ireland.
We envisage a continued evolution of the IJS towards an international journal of the highest standards that coherently articulates three core substantive strengths of the discipline – social science (broadly interpreted), social policy and social theory. The intention is to avoid a narrow view of the field and, moreover, offer an increasingly professional and rigorous demonstration of sociology's many strengths.
First, we intend to further concretize IJS's role as a general sociology outlet and encourage submissions of high quality, empirical social science research. Our collaborative editorship reflects an even balance between qualitative and quantitative approaches, which is intentional. We intend to avoid the pitfalls of reinforcing paradigmatic divisions within the discipline, working instead to offer the best examples of empirical work that accurately reflects the multitude of tools available to sociologists and their implementation in the field. We intend to combine rigour with inclusivity, which is reflected in an editorial board that is diverse in terms of method, methodology and the intersection of the two.
Second, we intend to underline the relevance of sociology to society more broadly. The social policy dimension of the editorship entails inclusion of work that explores the application of the sociological lens to real-world concerns. This builds upon an existing record of published work in the IJS in this vein and seeks to underline the relevance of sociology for readers outside of the discipline.
Third, we envision IJS also to be an outlet for high-quality theoretical work, operating at the intersection of social science and the humanities. Therefore, we encourage submissions from the fields of intellectual history, current debates and critiques of the discipline. A second component of the theoretical inclusivity encompasses work that provides a resource and reference to sociologists working in higher education. We encourage submissions that consider disciplinary, inter-disciplinary, intra-disciplinary and multi-disciplinary approaches to teaching sociology.
Table of Contents: Current Issue
Articles
Te puede interesar